My ESC in Molfetta - An experience of a lifetime Volunteers say
Ciao! My name is Lena, I'm from Germany and after I finished school I decided to do a European Voluntary Service in Puglia. For five months I was working as a volunteer in a school in Molfetta. During my time abroad I gained really great experiences and made friends with people from all over Europe.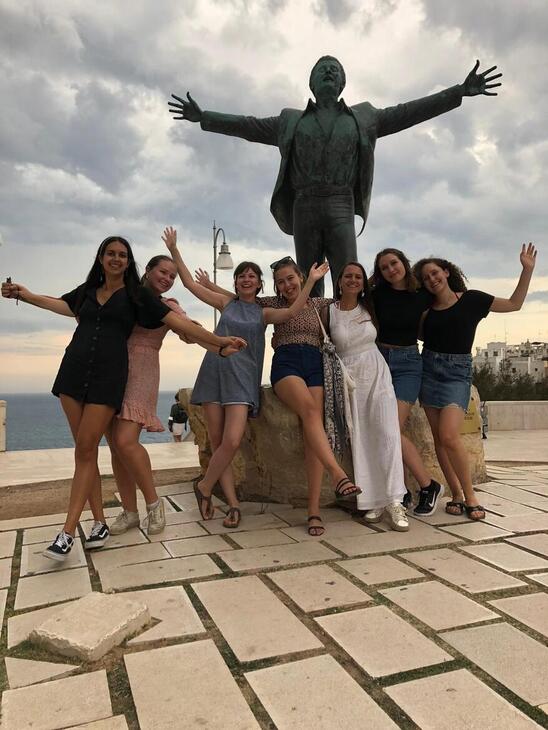 Before I arrived in Molfetta in September 2020 I didn't know that much about Puglia or South Italy in general. I was really nervous to start this adventure, especially because I had never been away from home for such a long time, neither had I traveled alone before.
When my mentor Clelia and her friend Diana gave me a warm welcome at the train station, however, my concerns were quickly dispelled. From the very first day I enjoyed the vibrant yet relaxing atmosphere in Molfetta as well as the warmheartedness of the people I got to meet.
When I moved into the apartment I was a little surprised because, instead of sharing it with three other volunteers, I was told that I was going to live with ten other people. It turned out that it was not that easy to share a kitchen with so many people and I had to figure out how to take enough time for myself. But after a few weeks we all got used to living together and had a really great time by traveling together, spending some time at the sea, having international nights (e.g. Hungarian dinner or Turkish breakfast) or by simply chatting over a glass of wine.
During the first three weeks my project hadn't started yet so I had a lot of time to get to know the city and to also see some other beautiful places, like Polignano A Mare, Lecce, Giovinazzo or Alberobello. I adapted quickly to the laid-back Italian lifestyle and I like to think back to the feeling of light heartedness when I was enjoying the great weather and drinking my espressino with a view of the beautiful sea.
Moreover, it was always fun to me to participate in international evenings organized by InCo where I could also meet some locals, for example "Testo A Fronte", where volunteers read poems in their mother tongue, which were later translated to English and Italian.
By the end of September my project in a primary and secondary school finally started. In the beginning, I was really overwhelmed and insecure as I only knew a few words in Italian and suddenly I was expected to give lessons to students who barely spoke English. Nevertheless, after some time I managed to contribute my own ideas to the project in a way that not only me but, certainly, also the students and teachers profited a lot from this cultural exchange.
All in all, I'm really glad that I decided to do my ESC in Molfetta. I got to know many lovely people and established some close friendships with people from all over Europe. Of course it has not always been easy and there were many ups and downs. But in the end it was a really great experience to just get out of my comfort zone, to get to know other cultures, learn a new language and also to have the chance to develop on a personal level. I'm grateful for everyone who contributed to making it such a great experience for me.
Ci vediamo!