Volunteers with InCo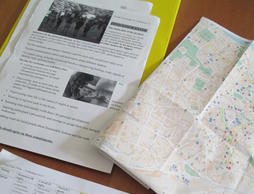 Get ready! We are almost ready to leave!!!Seven young boys and girls from different Italian regions (Trentino Alto Adige, Veneto, Puglia) will join the youth exchange project "Find your flow": from the 29th of July to the 7th of August 2017, they will stay in the stunning city of Vilnius, in Lithuania. Their aim is to get confident with topics like sustainable and slow fashion, alternative and active lifestyles, dietary restrictions, to mention just a few of the themes they will cover!

(Monday 22 August 2016)
Time is passing by so quickly and the third and last deadline of ERAMUS + is here!InCo has started to look for the future volunteers for 3 partner organizations with the deadlin...

(Tuesday 02 August 2016)
After this hot Italian summer the 3rd deadline of ERASMUS+ is approaching!InCo – Molfetta has started to look for the future volunteers for our local activities and for a&n...

(Wednesday 30 March 2016)
Spring is here and so is the 2nd deadline of ERASMUS+!Do you want to gain experiences as a volunteer in Italy? There are two organisations, probab...
(08/01/2018 9:55 am)
Quasi un anno ha trascorso da quando sono arrivata a InCo Molfetta. Sembra che è stato ieri quando sono arrivata, una ragazza con molta voglia di f...
(04/01/2018 10:17 am)
Hello everyone! My name is Maria, I'm from Russia and I want to share my EVS experience in InCo Molfetta in Italy. My project lasts for 6 months,...
(16/12/2017 8:01 pm)
Ciao a tutti, mi chiamo Marino Porta e sono un docente di sostegno in servizio presso l'I.I.S.S. "Mons. Antonio Bello" di Molfetta. Dal 26 novembr...