World Volunteer Day 2018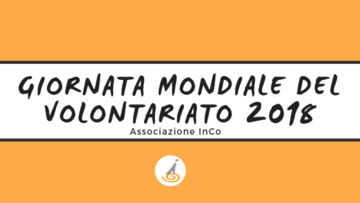 Today is the World Volunteer Day, an international event designated by the United Nations Assembly in 1985. Since then every year this day has a specific theme. What this year is: "Volunteers build resilient communities". It is celebrated, that is, the effort of the volunteers to fortify the local environment and the resilience of the communities in the moment of confrontation with natural disasters, economic problems and political conditioning.
This day is an opportunity for all volunteers and all organizations to raise awareness and create a consensus for the contribution donated to their communities. It is also a unique opportunity for all volunteer workers to celebrate their efforts, share their values ​​and promote work done in their communities through NGOs, UN agencies, governmental authorities or private sector organizations.
The act of volunteering is recurrent in all cultures, languages ​​and religions. Every year, hundreds of thousands of people volunteer their time and skills to help make the world a better place. By doing this they help to improve the lives of others and also gain a greater sense of belonging to their communities.
We want to take the opportunity to thank all the volunteers who in the InCo years had the good fortune to meet on their journey of growth, recognizing their time, work and skills.
Here is what volunteering for some of them, currently present in Trentino Alto Adige:
"Volunteering means to me exploring new things such as language, culture and nature plus sharing my everyday life with other volunteers."
Ivana Janíkova
"Volunteering for me is an opportunity to try something new every day."
Natalia Shipilova
"Their smiles make me smile. When I become part of the people's happiness so this is my greatest motivation. I am benefiting others as well as myself."
Abdallah Hajjaji
"Volunteering to me is an exploration process. A process where you explore the diversity of people, different cultures, many possible opportunities and the unknowns of yourself."
Gizem Kubilay
"Volunteering is an unique opportunity to be socially engaged, to get to know a new country and to have one of the best experiences of your life."
Julia Schwarz
"Volunteering for me is the life-changing experience. It is the opportunity to renew the vision about yourself and about the world."
Ana Makharashvili
"Volunteering is exploring."
Nina Dentler
"Volunteering is a magnificent experience to get new friends, to learn new languages and cultures and to feel useful for people who need help."
Seda Orhan
"Volunteering is the best way to find yourself, to explore a new world and to learn how to love and respect other people."
Mako Gochashvili
"I've never known another volunteer that did not have the best experience of his/her life, or at least an unforgettable one."
Ismael Pérez Sanz
"Volunteering is walking on world peace in small steps."
Kaan Kirmaz
Thank you!