Volunteers with InCo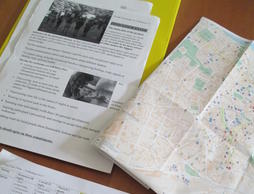 Get ready! We are almost ready to leave!!!Seven young boys and girls from different Italian regions (Trentino Alto Adige, Veneto, Puglia) will join the youth exchange project "Find your flow": from the 29th of July to the 7th of August 2017, they will stay in the stunning city of Vilnius, in Lithuania. Their aim is to get confident with topics like sustainable and slow fashion, alternative and active lifestyles, dietary restrictions, to mention just a few of the themes they will cover!

(Monday 22 August 2016)
Time is passing by so quickly and the third and last deadline of ERAMUS + is here!InCo has started to look for the future volunteers for 3 partner organizations with the deadlin...

(Tuesday 02 August 2016)
After this hot Italian summer the 3rd deadline of ERASMUS+ is approaching!InCo – Molfetta has started to look for the future volunteers for our local activities and for a&n...

(Wednesday 30 March 2016)
Spring is here and so is the 2nd deadline of ERASMUS+!Do you want to gain experiences as a volunteer in Italy? There are two organisations, probab...
(21/09/2017 10:38 am)
Le valigie fatte, si ritorna. Saluto così questo posto che è stata la mia casa per sei giorni. Sei giorni vissuti appieno, nel bene e nel male. Ap...
(13/09/2017 2:37 pm)
"Hola! Mi nombre es Israel Pulido, soy un mexicano que recientemente ha llehago a Trento, Italia para participar durante 1 año en un programa de Vo...
(08/08/2017 12:52 pm)
Ormai sono passati quattro mesi dall'esperienza fatta a Cipro nel corso del progetto "ACTS OF YOUNG PEOPLE" tenutosi a Nicosia, nel dettaglio a Ped...