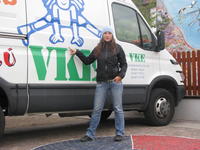 When I was 15 years old, I had a dream - go to live to Italy - not forever but for certain time of my life. It took more than ten years, but finally my dream came true: I spent one wonderful year of my life doing EVS in Bolzano, in South-Tyrol. And even if it is not real Italy, but the meeting point of two cultures - Mediterranean and European – I am really proud of this cultural and work experience, happy to have so many new friends and very satisfied to the chance to be one of the members of VKE - the public oriented organization aimed to defend the rights of children to play.
VKE has two game centers (Spielhaus) with fixed structure for playing activities out of the usual school timetable and play bus (Ludobus) that organizes different activities on the playgrounds, school neighborhoods, private courts, streets and public places. During my Service I was part of the Ludobus team, so that I was all the time "on the wheels" and had a possibility to see the whole region (Suoth-Tyrol), work on the mountains and work with the children with fewer opportunities in periphery of Bolzano. And I like their goal - to give possibilities for children to play without any preferences between nationalities or social level.
Now after one year, at the end of the project I have to say, that I am really lucky person, who didn't have to face any problem during my service: everything went just like I expected and even if at the beginning I was a bit confused of bilingual community (Italian and German), I feel myself now richer of this unique experience and two new languages (I can not speak German, but I understand more than I expected and at the moment I am really motivated to learn it),the lovely persons I met, my affection to the mountains and to the nature around Bolzano and of course Bolzano by itself…..this all will bring me back here 
To close my project I would like to thank everybody who made possible to make one year voluntary service in Italy: my sending, coordinating and hosting organizations, my family, all my friends who supported me in decision making period and all this lovely people I met during my voluntary service and with who I spent very special and beautiful moments in Italy.
At the moment still in Italy, enjoying the last summer sun shine and air of the mountains, I feel myself confident, happy and satisfied. The time flew so fast, that I have to ask to myself: do I have to go home already? Was it really one year? For me it seems like I arrived here yesterday….and after one week I'm already gone…
All of these youngsters, who are thinking about doing EVS I have just one suggestion: do it, it is the best experience and time of your life and you will remember it forever. If I could decide now one more time…I will do the same, everything again!
Arrivederci Italia….e a presto!
This is an open space for discussion for the volunteers joining this kind of programmes!
May 2013
| Mon | Tue | Wed | Thu | Fri | Sat | Sun |
| --- | --- | --- | --- | --- | --- | --- |
| | | 1 | 2 | 3 | 4 | 5 |
| 6 | 7 | 8 | 9 | 10 | 11 | 12 |
| 13 | 14 | 15 | 16 | 17 | 18 | 19 |
| 20 | 21 | 22 | 23 | 24 | 25 | 26 |
| 27 | 28 | 29 | 30 | 31 | | |