New Volunteering Project in Molfetta Municipality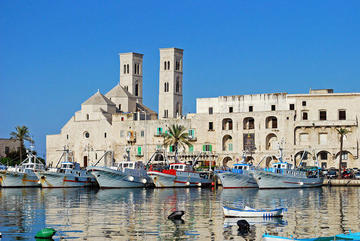 A new call for EVS volunteers from EU countries is now open. InCo will select 2 volunteers for the municipality of Molfetta (Southern Italy, seaside)
When
From 1st of March 2019 to 28th of February 2020
Places
2 places available. Volunteers must be from 2 different countries. It is not possible to host volunteers from the same sending organization.
Requirements
We are looking for 2 people within an EVS/ESC project in South of Italy:
project will take place in Molfetta Municipality and will start on 1st March 2019 and last 12 months (until 28th February 2020)
You can find more information in attached infopack.
The candidate needs to be:
- between 18 and 30 years old
- interested in the topic of littering and waste dumping
- open minded, flexible and adaptable
- willing to learn italian language
- interested in working with unpriviledged youngsters
Conditions
Be aware:
We will not accept applications done by volunteers directly, only through the sending organization
Email's subject must be: "EVS application InCo through [name of your sending organisation]". Emails without the specific subject will not be included in the selection process.
Emails which do not follow the indications will not be processed as valid applications and will be directed again to this announcement.
Successful applications will receive an email of confirmation.
How to apply
INTERESTED?
So here the application procedure: (read and follow it carefully!)
1) Download and fill the application form from below
2) Get deep information about EVS and its conditions; read as much as possible about the receiving organization you are interested in and the city where it is located, verifying if it really matches with your ideas/dreams of experience abroad;
3) Contact your Sending Organisation
4) Discuss the opportunity with your sending organisation, checking the opportunities offered and your expectations. Matching profile and opportunities is essential to guarantee a great service for you! In case of doubts, write us an email (molfetta@incoweb.org) we will be happy to help you.
5) Ask your sending organisation to fill out the Application Form with its information.
6) Ask sending organisation to send us an email with your application form, your CV with picture and the Motivation letter.
The deadline to apply is the 5th of August 2018. Our email is: molfetta@incoweb.org
Good luck :)