Au pair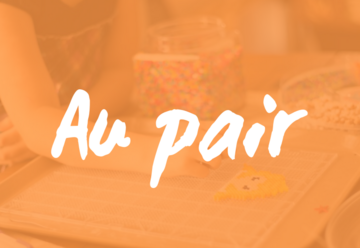 It is an opportunity for a youngster of spending some time in a hosting family in a different country, contributing to the daily life of it - taking care of the children, helping in cleaning the house, etc. receiving free food and lodging plus a monthly pocket money.
What is that?
It is an opportunity offered to those between the ages of 18 and 26, which allows one to travel to a foreign country, live with a host family, and gain experiences of life and culture within a different country. Au pairs will also have the chance to learn the host countries language while attending language courses provided by the program.
In exchange for room, board, and a weekly allowance, the au pair is included as an integral part in the life of the host family, by taking care of the children and assisting the family in light housework.
In this regard, it is important to remember that the au pair is not to be seen as a domestic worker or an employee, the reason being that the au pair does not have a work contract with the organization or with the family. Although the au pair is here to assist the host family with childcare, it must be noted that the au pair is also here to learn and experience a new country, culture, and language. The aupair is usually a student from a different country, who as part of an experience of cultural exchange, makes its contributions in the life of a host family in accordance with the conditions that have been set forth.
In Europe, au pairs are regulated by a separate international agreement. Signed by the Council of Europe, this act was established to be observed within the au pair field and installs rules of conduct for au pairs to follow.
Activities
Au pair duties consist of the following:
Child Care: (depending on age of child) prepare them for the day by getting them out of bed, prepare them breakfast, wash them or make sure they wash themselves, help them dress themselves, make sure they eat their meals, take them for walks, drop them off and pick them up from school, the gym, swimming, pool, or any extracurricular activities they may have. Make sure you keep them interested and busy by playing with them and/or teach them a new language, if it is required.
Household Chores: make sure that your room and that of the children are well-kept and tidy, wash dishes or put them in the dishwasher (if available) and dry them, prepare their (children) breakfast and cook light meals, iron clothing and linen that belong to the children. Household chores that are excluded are heavy cleaning of the house, as well as housework for the parents, such as their laundry or the ironing of the laundry.
For whom?
Youngster between the ages of 18 and 30
How much time does it last?
An au pair usually stays with the host family between 6 and 12 months. Occasionally the host families prefer the au pair stay for a longer period of time, between 9 and 12 months, to ensure continuity for their children. There is also the opportunity to be an au pair for the period of summer, which is usually between 2 and 4 months. It takes place at the beginning/mid of June to early/mid September. This sort of opportunity usually is available amongst Mediterranean countries, where summer holidays last from June to September and many families need the aid of an au pair.
Requirements for participating
ages between 18 and 30
desire and motivation to be fully integrated into a family, a different country and culture
some experience in childcare.
knowledge of implementing creative, yet educational, activities for children.
in some cases, it is required to have a basic knowledge of English or of the host countries language.