EVS abroad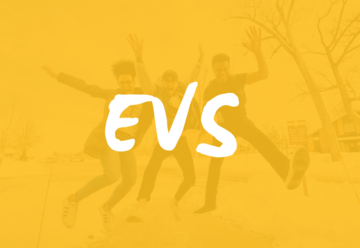 The European Voluntary Service (EVS) is a program funded by the European Commission, which gives the opportunity to a young resident in Europe aged between 18 and 30 years to carry out a volunteer service from 2 to 12 months in another country.
The idea is that young people participate in the realization of a volunteer project useful for a local community, not as employees or even as interns, but as volunteers.
What is that?
The EVS offers the possibility to volunteers to engage in the following areas:
Social sphere: educational and recreational activities for children and young people, assistance in structures, disabled people, elderly people, collaboration in a youth center;
Ecological scope: environmental projects, environmental education projects;
Cultural area: cultural and intercultural projects.
Anyone who wants to carry out a Volunteer service should be available for inclusion in different areas; to get an idea about existing projects you can consult the database in English!
For whom?
The EVS is open to all the young people aged 17 to 30 which are resident in Europe, but in this frame, we can manage only projects for people resident in Italy.
For the projects addressed to non-Italian resident please visit: EVS in Italy.
How much time does it last?
An EVS project lasts from a minimum of 2 months to a maximum of 12 months.
Where can I go?
In all countries of the European Union, the EFTA countries (Iceland, Liechtenstein, Norway) as well as in neighboring countries (Turkey). In addition, the InCo association sometimes makes selections of volunteers for projects in Latin America.
Requirements for participating
No special skills are required, even if a basis of English (or the language of the host country) can be useful.
What do I receive?
Thanks to EU funding, the following expenses will be covered:
Accommodation and meals
A monthly allowance
A subscription to the Group Insurance Plan by EVS
Travel expenses to and from volunteer's country of origin and host country are partially covered with a fixed sum
Teacher training and evaluation
How can I apply?
To start there are a series of steps to follow and you have to take time. In addition to this, it is necessary to prepare cv and letter of specific motivation for the project for which you are applying and be ready to hold an interview in language, also via Skype.