New EVS opportunities in Germany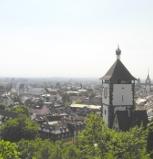 The Steinbeis Innovation Centre "European Projects" is accredited as a coordinating and sending organisation within the EVS-program, for hosting volunteers it is cooperating with several organisations of the german social and health care system. The Centre is located in Freiburg: these EVS vacancies are only for european citizens living in Italy!
For the deadline of 1st of April there are still some places free in the following projects:
Volunteers are expected to have basic skills in german language, for school projects an intermediate level would be better-
To apply send us your cv and a motivation letter in English at the email address: info@incoweb.org by March, 29th!
(05/07/2011 11:48 am)
Prima di arrivare a Bolzano io facevo un lavoro amministrativo e mai non ho lavorato con gli anziani, per quello avevo un po' di paura e di timore...
(11/05/2011 2:44 pm)
I spent a half year in Italy, in Trento. I had just finished university and recived my diploma and I decided to go to Italy to have some experienc...
(15/04/2011 7:38 pm)
Negli anni a seguire la mia laurea ho deciso di intraprendere un periodo di viaggio e lavoro attraverso differenti paesi d'Europa per arricchire la...