Ciao Tutti!!!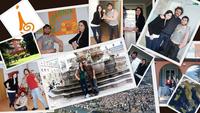 I spent a half year in Italy, in Trento. I had just finished university and recived my diploma and I decided to go to Italy to have some experiences before starting my master studies at university. I think it is very important to see the real world, practice and to get to know other cultures. Today we live in a global world where we need to know so many things about not just others but also ourselves. I'm sure that this experience is still helping me to became a real european citizen. I saw so many beautiful things, the Italian landscape, the kithen, friendly people, friends, knowlidge etc. And now when I'm at home in Hungary I feel myself an other person. I changed my habits in thinking, in eating... So many things changed in my life philosophy.
And what was about my voluntary service? I lived in Villa Sant'Ignazio where I helped disadvantaged young adults and elderlies. We went to play volleyball to make some trips on sundays, we made a "Green team", an intercultural event...etc. but my important role was to be an example for others. It was very interesting to see other's life and so different ways to live, to speak with immigrants, Italians. By the way, the language. I didn't know a world in Italian. At first, I couldn't understand anything in Trento. But as a part of the program I went to school to learn Italian. And then it was always better and better. My huge help was the other international volunteer, Ernest from Armenia. It was just fantastic to share with him everything, we became real friends. Of course I had mentors and workers, educators who helped me so many times. I don't say that there were no problems but we could solve them all the time. I think I also improved in handle conflicts and situations.
Moreover, I could travel and see so many beautiful landscapes. I had an on-arrival training in Verbania, close to the Lago Maggiore where I could meet other volunteers who worked in Italy at same time. This traning tried to improve our intercultural, interpersonal and communication skills but in a funny way. It was very interesting to get to know others again and live in 3 stars hotel with all inclusive services! :P I was very lucky because I participated at the mid-term training too in Naples. It's very far from Trento and not only the temperature was changed but the people, the landscape and everything. I could meet the same people like in Verbania I could.
I was really involved to the Italian culture. When you're starting to know the language you can understand the people. And I believe that if you know more language, you're more person. It's really true! I suggest for everybody this experience because it's a huge chance to make something for the world and to see it. At the end of my project I recived a document about my service and my improvement, called "Youth Pass" which surely will help me to find a job after my studies. I ask all of you: use this possibility and live in a global way! :)
Edina
This is an open space for discussion for the volunteers joining this kind of programmes!
May 2013
| Mon | Tue | Wed | Thu | Fri | Sat | Sun |
| --- | --- | --- | --- | --- | --- | --- |
| | | 1 | 2 | 3 | 4 | 5 |
| 6 | 7 | 8 | 9 | 10 | 11 | 12 |
| 13 | 14 | 15 | 16 | 17 | 18 | 19 |
| 20 | 21 | 22 | 23 | 24 | 25 | 26 |
| 27 | 28 | 29 | 30 | 31 | | |